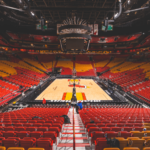 The Boston Celtics took Game 5 of the Eastern Conference finals with a 93-80 win over the Miami Heat on Wednesday night at FTX Arena. The victory gives Boston a 3-2 edge in the best-of-seven series.
Jaylen Brown led Boston with 25 points, while Jayson Tatum posted 22 points, 12 rebounds and 9 assists in Boston's second straight win. Bam Adebayo had a team-high 18 points for the Heat but was the only member of Miami to shoot better than 50 percent from the field.
Boston's offense came to life in the second half, with Derrick White making six of his first seven shots, and Al Horford earning 16 points to help Boston earn the win.
The Celtics will look for the series win when they face Miami on on Friday night back in Boston for Game 6 at TD Garden.
Editorial credit: Jai Agnish / Shutterstock.com