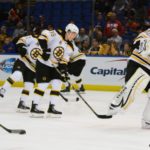 Coming off the announcement of defenseman Kevan Miller's retirement earlier on Wednesday, the Boston Bruins signed defenseman Brandon Carlo to a six-year contract extension on Wednesday.
Miller, 33, played seven seasons in the NHL, all with Boston. He posted his retirement announcement on Instagram, saying in part: "There are so many people that have had a profound impact on my career, there is no way I would have realized this dream of mine without all the support. I want to start by thanking the Bruins organization, The Jacobs Family, Cam Neely, Don Sweeney, Peter Chiarelli. It's hard to put into words what it means to wear the spoked be, it was an honor to put that jersey on each night."
The deal with Carlo comes with an annual NHL cap hit of $4.1 million. Bruins general manager Don Sweeney said in a statement: "Brandon is a player who has grown into a foundational defenseman with our team while also emerging as an important leader on and off the ice."  The 24-year-old Carlo played only 27 games this season due to injury, recording three goals and one assist. He appeared in eight playoff games. The 6-foot-4, 227-pound defenseman was a second-round pick by Boston in 2015.
Editorial credit: Jai Agnish / Shutterstock.com